In early 1994 Michal Smith and Rick De Coyte were languishing in a carpeted glass and plastic office suite in Center City, when we happened to drive down a desolate 3rd Street in Old City and saw a "To Lease" sign on a dilapidated building. We rented the building with an option to buy and within a few months we had exercised our option to buy and moved our home to the second floor of the building and our small graphic design studio to the storefront.
With about 1,000 square feet of "spare" space and being in Old Cities "Gallery Row" we decided to open a gallery. As we were so embedded in computer technology we decided to have the gallery show art that "was created or influenced by the computer". On November, 2nd, 1994 we opened our doors for First Friday with out very first show. The Small Computer and the Arts Networks art show to coincide with their Annual Symposium - think crazy computer based artists and musicians, remember this was 1994!
When the gallery opened in 1994 Old City was the center of the Art Scene in Philadelphia where more than 50 galleries lived in the four blocks around 2nd and 3rd and Race and Arch. It was also home to hundreds of artists who had live work spaces or just studios in the many decaying storefront / warehouse buildings here. The Philly Fringe, now FringeArts was born here and in the beginning all of the Fringe performances were in Old City including serveral in Silicon's space. It was a great place for an artist or artisan to live and work.
Since then Silicon has had over 200 shows showcasing thousands of works that somehow came from a computer. Sculpture, projections, videos, regular and not-so-regular prints you name it, if there was an artist involved and it had something to do with a computer we have shown it.
In 1996 Rick and Michal decided it might be fun (?) to actually print the work ourselves and by begging and borrowing we managed to buy our first IRIS printer - the stuff of legends - which cost a little more than the building and Silicon Fine Art Prints was born. We were one of only a handful of digital printers in the country.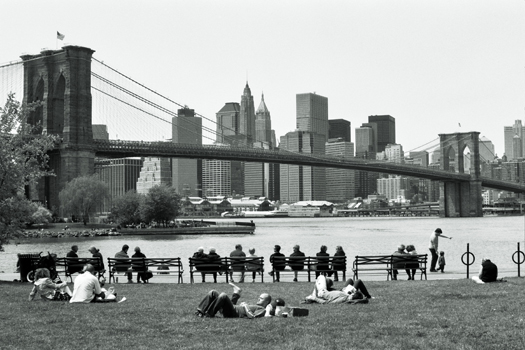 In 1999 we opened another studio/gallery in DUMBO (Down Under the Manhattan/Brooklyn Bridge Overpass) - now a VERY trendy part of Brooklyn and had regular shows there for 3 years, finally closing in 2002 as another victim of the ravages to the art world of 9/11.
As time went by digital cameras became common place and the line between digital and analogue became blurred. All of the work we showed until the very end, had a digital component even if that was only that it was printed digitally or at least some of it was.
Collaborations initially with The Philadelphia Print Collaborative, (which went on to be Philagrafika), started in 2001 and produced some amazing prints many with a combination of digital and analogue methods. This in turn led to many great collaborations with C.R.Ettinger Studio who specializes in intaglio and relief techniques which we coupled with digital to produce unique prints. In 2004 Michal Smith left to become the Executive Director of the Print Center and is now the Executive Director of Cradles to Crayons.
Fast forward 20 years and there are more hairdressers than galleries in Old City as it has slowly evolved to be one of the best (and most expensive) places to live in Philadelphia: three town homes in 2004, a block away on Race Street, that were priced at over $2 million are testament to that.
In June 2016 Rick De Coyte the co-founder, gallery director and master printmaker moved to the United Arab Emirates and Silicon Gallery closed. A new story is being written by Rick at digitalprintmaker in Dubai